proven track record
Since 1988, Sweeney Associates has been building custom homes in CT from the Farmington Valley to the Connecticut Shoreline. We have built over 100 high-end custom homes over the years thanks to our clients. With our experience and proven track record, we have been trusted by some of Connecticut's most prominent professionals.
award winning
We have consistently garnered awards over the years from our peers because of our unrelenting pursuit for perfection in home building.
Our most recent awards include:
2013 Best Custom Home 9,000 - 10,000 sq. ft.
2013 Best Conversion, Hay Barn to 4 Season Family Retreat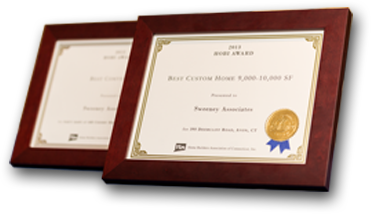 building excellence
Michael Sweeney strives for nothing less than perfection when building custom homes. Our proven process combined with decades of experience has allowed us to become luxury home building specialists in Connecticut. Our exceptional organization and strict adherence to deadlines ensures your custom home project will be timely. We are consistently researching new products and implementing the latest cutting edge technology into our projects. Contact us about your custom home project, we would love to hear from you!